The CRG, since its foundation, has trained and produced a considerable number of excellent scientists who, after leaving the CRG, have continued to contribute their knowledge and energies into social welfare from various sectors.
The mission of the CRG's Alumni program is to develop and foster lifelong relationships with all these excellent scientists by engaging alumni and staff and create a dynamic community whose members are proud to uphold CRG's spirit and promote CRG's mission, vision and values worldwide.
Additionally, the CRG's Alumni program supports the CRG in its pursuit of excellence in the international research field.
The project took off in late 2015 and it currently counts on more than 1,100 alumni spread all over the world.
CRG Alumni strives to provide value to its alumni, to CRG and to society at large by taking the following steps:
Encouraging networking among alumni and staff
Creating a positive experience at CRG for all the students and staff
Fostering a life-long connection with our alumni
Providing valuable services to our Alumni Community
Enhance and build the Institute's reputation around the world
Nurturing a strong sense of pride in belonging to CRG.




​

Message from our director, Luis Serrano: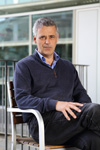 "The success of a research institute is not only its science and inventions, but the human talent generated at all levels.  Training young scientists and giving them the tools and support they need to be successful is one of the biggest challenges we face.  Thus for CRG keeping in contact with its alumni and supporting them as much as we can is a priority and a measure of our success. We encourage all of you to become members of our Alumni community to enjoy the benefits and share your achievements with us."